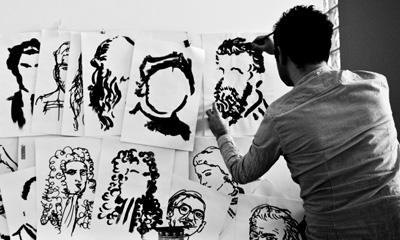 All the designs of the collection are handmade by Andrea Cipriani, an italian designer that working in communication sector.
It's the result of the collaboration between the creative studio and the family fashion company that working for over 30 years.
The first drawings are created using paint and brush: we want a smeared T-shirt of ink with a irregular and artistic scratch. Only after this phase the design is digitalized for the final realization.
Therefore, we print all using a very hight quality of black color.
The T-shirts don't have any name or slogan in the print.
Isn't chic add words or names: you know the tribute you're wearing and this is all.
Every product has a special personalized hangtag about the celebrity chosen.